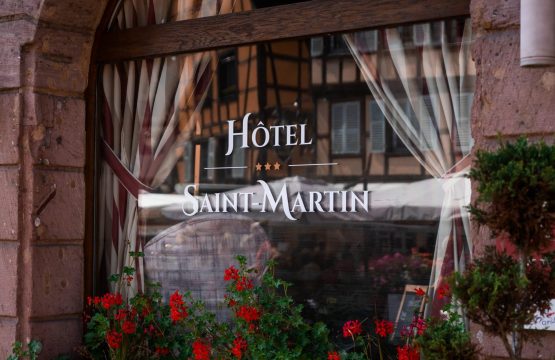 A PLACE FULL OF HISTORY
IN THE HEART OF COLMAR
3 star hotel located in downtown Colmar
The Saint-Martin hotel is a 3 star hotel located in the heart of the romantic little Venice of Colmar. It is the ideal starting point to discover, in summer and winter, Colmar and its historic districts as well as the charming Alsatian villages of the Wine Route.

COLMAR ELECTED BEST EUROPEAN
DESTINATION 2020

The hotel offers rooms for 1 to 4 people. More spacious, the rooms from the "SUPERIOR" category allow the addition of an extra bed or a baby bed. They are available upon request and according to our availability at the time of booking.
2 rooms (one superior and one family room) are equipped to receive people with reduced mobility.
Tradition Room
Double/Twin
All-you-can-eat breakfast
Frühstück nach Belieben – täglich von 7 bis 10 Uhr im Saal – in Form eines großen Buffets, das mit lokalen und vielfältigen Produkten geschmückt ist: 3 Sorten Gebäck, Gugelhupf, Wurstwaren, Käse (Munster…), hart gekochte Eier, heiße Getränke (Kaffee, Schokolade, Cappuccino), eine Auswahl an Tees und Kräutertees (darunter Bio-Rooibos), Fruchtsäfte, Obstsalat, Apfelkompott…..
An schönen Tagen können Sie Ihr Frühstück im Innenhof auf der Terrasse genießen.
€14.00 pro Person und €7.00 für Kinder von 3 bis 12 Jahren. Kinder unter 3 Jahren erhalten ein kostenloses Frühstück.
The reception is open 24 hours a day. Decorated in an Alsatian style, the rooms are all equipped with a private bathroom and a television. You can also relax in our lounges or on our terrace.
Your bicycles will be safely stored overnight in our inner courtyard.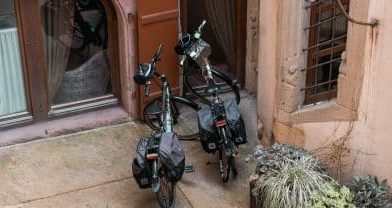 The "city center" shuttle, electric and free!
To improve mobility in the city center, and as part of the "Action coeur de ville" agreement, Colmar Agglomération has decided to introduce (as of April 27, 2019) free electric shuttles serving Colmar's hyper-center. These shuttles complement the transport offer of the Trace network.
Connected to the Trace bus lines and the main parking lots, this free shuttle allows you to get around the heart of the city.
Regular: A shuttle every 15 minutes, from 9am to 7pm, Monday to Saturday.
Free: No ticket required.
Convenient: I get on and off whenever I want, at stops and in stop-on-demand zones.
Ecological: The line is operated by 3 fully electric Bluebus vehicles. In addition to the total absence of CO2 emissions during operation, the advantage of electric vehicles lies in their low noise impact.
Complementary to bus lines: The shuttle connects with all the lines in the Trace network at the Théâtre hub.
Connected to parking lots: I leave my car in one of Colmar's main parking lots and let the shuttle take me: Lacarre, Rapp, Scheurer-Kestner, Cathédrale Sud and Nord, Montagne Verte, Mairie and Saint-Josse parking lots.
Accessible to people with reduced mobility: All stops on the line, as well as the on-demand stop zones, are accessible to people with reduced mobility. Equipped with a retractable ramp, this vehicle makes the entire line fully accessible.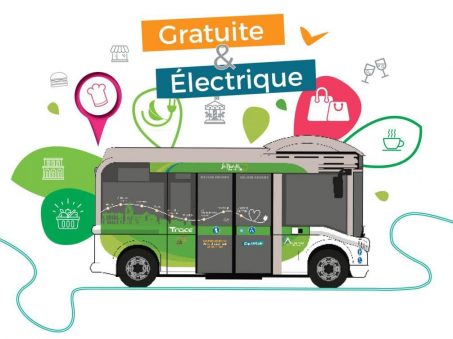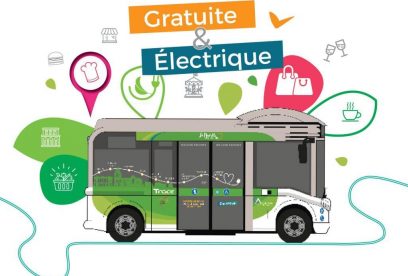 User-friendly and compact: With its 8 seats, 10 standing places and 1 PRM place, this sub-six-meter vehicle can accommodate around 20 people and thread its way through the streets of the city center, providing quality local service.
PARKING ST JOSSE
€3 for 24 hours
of continuous parking
(Until November 1, 2023)
PARKING MONTAGNE VERTE
€25 for 24 hours
of continuous parking
The SAINT MARTIN hotel is ideally located in the historical center of Colmar, the capital of Alsace wines, in the Haut Rhin department.
LE KOÏFHUS : OLD CUSTOMS HOUSE